GRASS-FED BEEF
Our grass fed beef is from healthy, happy cows raised on our families 5th generation cattle ranch in Bunnell Florida.
Our grass fed beef cows are never given hormones or antibiotics, and are raised on a vast amount of land with plenty of lush grass to munch on.
We are delighted to offer the delicious beef that we have always loved to our local friends, families, and customers. We offer our beef for sale in bulk, and for those that don't have a lot of room in the freezer, we also offer smaller beef boxes.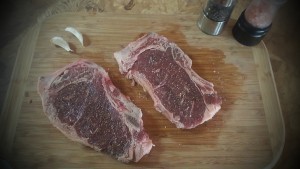 PRICING:
BUY OUR GRASSFED BEEF IN BULK AND GET MORE BEEF FOR YOUR BUCK!
(All bulk beef is double wrapped and packaged in freezer paper, and comes already frozen)
1/8 OF BEEF: $4/ pound hanging weight
1/4 OF BEEF: $4/pound hanging weight
1/2 OF BEEF: $3.50/pound hanging weight
WHOLE COW: Contact us for pricing
**Hanging weight is the weight of the beef once it has been field dressed and ready for aging, meaning the head, hide, hooves, and organs have been removed. On average, there is about 25-30% weight loss from the hanging weight to the packaged beef in boxes due to shrinkage from hanging (at least 10 days), aging, trimming and deboning.
**We do require a deposit for bulk beef orders
THE BUTCHER'S CHOICE CUTS YOU'LL GET FROM A 1/4 BEEF 
Steaks: 3/4″ thick   T-Bone,   Sirloin,   and Ribeye Steaks. Cubed steaks
Roasts: Rump Roast, Chuck Roasts, Sirloin Tip Roast
Hamburger(HB), Short Ribs, Brisket, London Broil, Soup Meat & Neck bones
Options: HB can be packaged in 1 or 2lb packages, but if not specified it will average 1.5lb packages.
Shoulder goes in HB unless specified
SIGN UP HERE FOR OUR NEWSLETTER TO BE INFORMED WHEN WE HAVE BEEF AVAILABLE!
https://landing.mailerlite.com/webforms/landing/x7f3o4
If you have any questions, feel free to email us at ccfamilyfarms@gmail.com